The Best New York-Style Cheesecake
The Food Network Kitchen
Ingredients
Crust
8 tbsp unsalted butter
2 cups Graham Crackers
1/4 cup packed brown sugar
1/4 tsp kosher salt
Cheesecake filling
2 1/2 pounds cream cheese
1 cup sugar
1/2 cup heavy cream
2 tsp vanilla extract
4 large eggs
Zest of 1 lemon, plus 2 tsp
1/2 tsp salt
Instructions
Put the oven rack in the middle and preheat the oven to 325 degrees.
For the crust: Put the butter in a medium microwave-safe bowl, cover with a paper towel and melt in the microwave in 10-second increments. Brush a 9-inch springform pan with some of the melted butter.
Stir together the remaining butter with the graham cracker crumbs, sugar and salt. Press the crumb mixture into the bottom of the pan, taking care to get the crust evenly to the edges. Bake until golden brown, 15 to 18 minutes. Let cool. Place the pan on a large sheet of foil and wrap up the sides. Place in a roasting pan.
For the cheesecake: Beat together the cream cheese and sugar in a large bowl with an electric mixer on medium speed for 1 minute. Add the sour cream and vanilla and beat until just combined. Mix in the eggs by hand, one at a time, until just combined. (Take care not to overmix or the cheesecake will puff up and crack.) Pour the batter evenly over the crust, smoothing the top. Pour enough hot water into the roasting pan to come about halfway up the sides of the foil-wrapped springform pan. Bake until the outside of the cake is set but the center is still slightly loose, about 1 hour and 20 minutes.
Turn the oven off and leave the cheesecake in the oven for another hour. Remove the cheesecake from the roasting pan to a cooling rack. Run a knife around the edge and cool to room temperature. Cover and refrigerate at least 8 hours.
Run a knife around the edge of the pan once more and unlock to unmold the cheesecake. Transfer to a serving platter or cake stand and smooth the edges with a knife.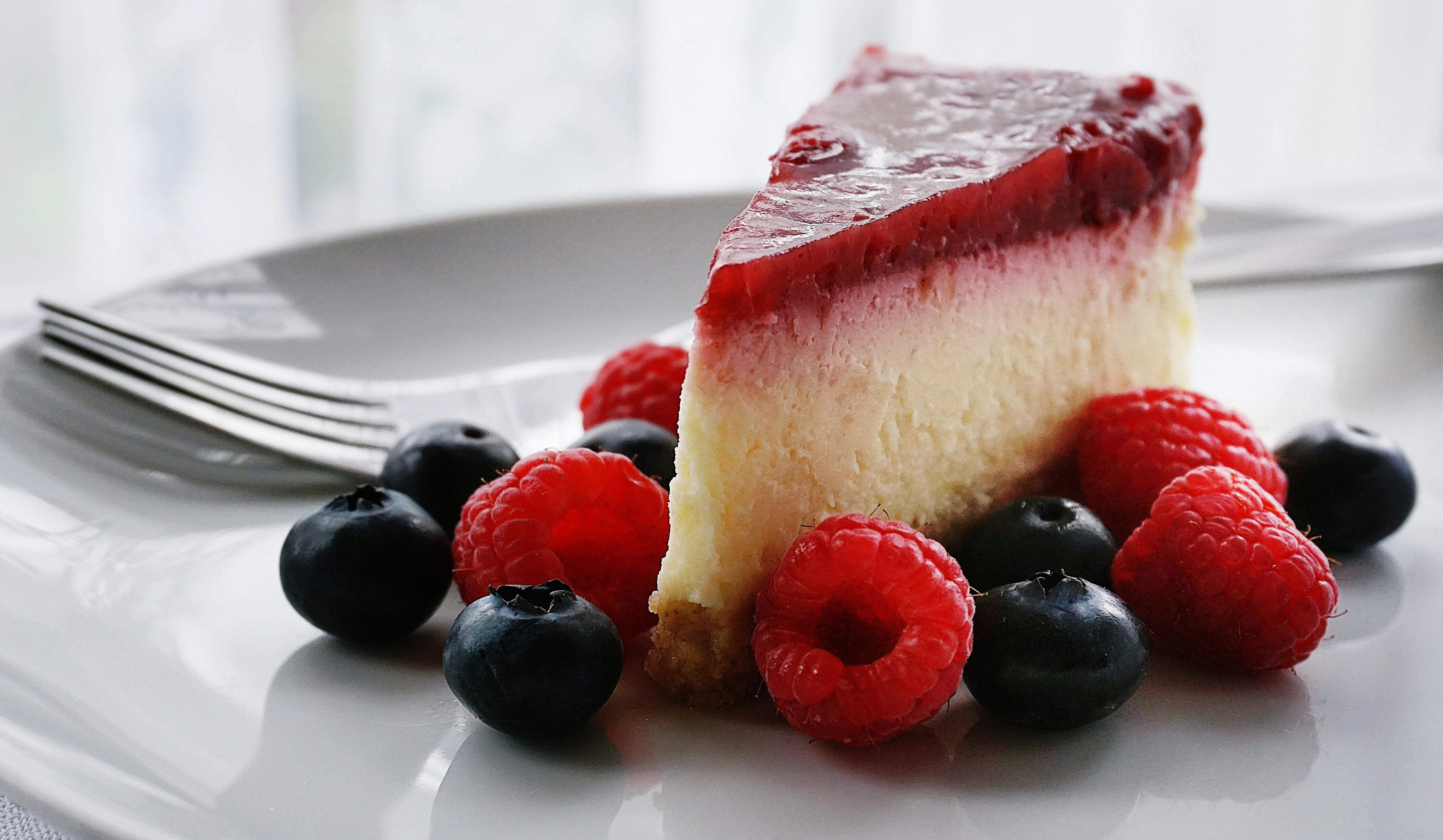 Nutrition Facts
Serving size: 1 slice
Amount per Serving
Daily Value
Calories 320 kCal
51%
Total Fat 18g
23.08%
Saturated Fat 10g
50%
Total Carbohydrates 34g
12.36%
Dietary Fiber 0g
0%
Sugar 22g
44%
Protien 11g
22%
Cholesterol 258mg
86%
Sodium 250mg
10.87%